CNC Routers
The Buyer's guide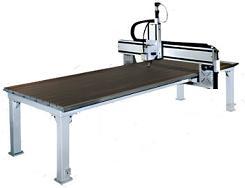 Welcome to the buyers guide sections of our website.
There's no doubt that CNC routers are amazing tools. They offer the ability to have a design brought to life in a matter of minutes. Skilled craftsmen can also produce a product using an array of tools. However, they can not compete with the precision, speed, and affordability of these machines.
Machines of the past used punch tape to acquire the geometry needed. CNC machines today, use a complex system of computers and controllers combined with controller software to guide the router. Using this method to control the machine,you have the ability to produce a near perfect product.
Of course, you have already considered this, which is why you are looking to buy one. However if you are like many, as you search for information you only find hundreds of models and manufacturers. Which probably got you asking, "Which one is the right one for me?"
Buying can be a daunting task, to say the least. This is where the Buyer's Guide comes in handy. It will walk you through all the decisions you need to make in order to narrow your choices.
We'll look at prices, types, considerations and many other aspect regarding CNC routers that will help you, the buyer, make an informed decision before you purchase.
It will provide money saving tips and tricks as well as informing you of EVERYTHING you need to have a complete system. It's very depressing to find that after you just bought a new "toy", you have to buy a rather expensive set of batteries to make it run. You might want to check out the builder's guide. If you know nothing about these machines then it might be wise to learn some of the CNC basics.

The following links will take you though the steps of buying a CNC router.



Buyers guide Step 1: Do I need a CNC Router?


This sections aims to answer the following:
Do I need a Router?
Would some other CNC machine fit my needs best?
Is it worth the price?
Step 2: Important Decisions and Consideration

This sections discusses the following:
Important decisions you need to make.
Other important considerations
Narrowing down my choices.
---
---
Step 3: Choosing the right type

This sections discusses the following:
Choosing the right type of router for your jobs.

Step 4: Pricing and other expenses

This sections discusses the following:
What should you expect to pay?
What should you NOT pay?
What external expenses should you expect to pay?
Do I need the costly upgrades?






Tips and Tricks for Buying



Sources for Quality CNC routers of all types



Reviews




---