Buying a CNC Router: Step 1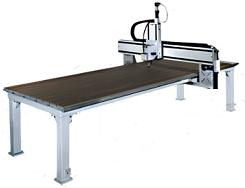 If you are here I assume you are thinking about buying a CNC router or some other CNC machine. Without a doubt these are amazing machines that can improve your business or project tremendously. However, there are many other types of CNC robotics that may be better fitting for your application.



"Is this the right machine for my application?"
Lets get down to the first order decisions that will help you decide if in fact this type of machine suites your application. First lets answer the following questions.

1)What type of materials do you plan to cut?
2)What is the most complex design you foresee cutting?
3)What kind of tolerances do you need to hold?

Keep in mind these are very basic questions. We will get into more detail later that will help you choose the right router type, if you feel this is the right machine for you.

1) What kind of material do you plan on cutting?
The reason this should be the first question you ask is because it can quickly let you know if this type of CNC machine is applicable. For example, if your answer was steel, I can almost assure you that there may be alternative machines that will meet your needs. Such as CNC Water jets, plasma cutters, or lasers, which is another topic. Routers are usually associated with carpentry, which is why CNC routers are usually associated with woodworking only. However, there are many other materials that can be cut.

So, if your answer to question one was any of the following:

Wood
Particle Board
Plastic
Foam
Composites
Glass
Aluminum*


Then it is safe to assume that a router could still be the machine for you. So lets continue to question two.



2) What is the most complex design you foresee cutting?
The complexity of the design is another important considerations. What is meant by this is primarily the overall size and depth of cut per axis. Do you plan to use the machine for cutting, carving, drilling, or all of the above?

The versatility of this machine is one of it primary appeals. However, with its ability to cut, carve, and drill there are drawbacks, such as speed. Now for the most part, this is not an issue. In most applications CNC Routers are quite fast and probably the fastest machine for the job.

However, if you are planning on only using this machine for cutting 2-D metal plate for example, a CNC water jet or CNC plasma machine would probably be more efficient.

The second considerations is overall size and depth of cut. Most CNC Routers are only equipped for 2.5-D cuts. Which is to say they are limited in one dimension as to how far they can cut without disrupting other surfaces. Imagine a sphere protruding out of a board.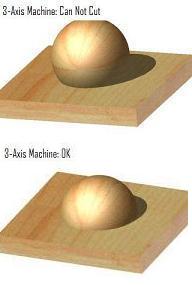 A standard 3 axis machine would not able to cut that piece if the sphere protruded any further than halfway. However, there are multi-axis CNC machines which we will get into later.

There are also overall size considerations. CNC routers are great for larger cut and for small. However, if you are cutting very small parts then the chances are you may need a CNC milling machine. Which brings is to our third question.








What tolerances are required on your final product?
Now this is something that I am sure you have already considered but it is still worth discussing. A router is capable of leaving a near perfect finish while surfacing and overall the tolerances are good. A decent machine, you should expect a tolerance of .001" or better for a given distance. We will get into these details later on.

However, if you are producing small parts that need to be mechanically functional, again a CNC milling machine or other fabrications techniques are probably more suitable for your application.

The precisions and accuracy of the machine is something that should always be in the back of you mind as you search the market.

As a side note, if you are not a company and are simply looking for a versatile machine that can meet your needs, you can hardly go wrong with these machines.

Even if you are a hobbyist or small business, it will be hard to find alternative machines with the capabilities and versatility of CNC routers within the same price range.

If you have decided that the CNC router is still a viable choice then I suggest you continue to Step 2 of the Buyers Guide. There, we will look at more decisions that will narrow down the types of CNC routers that will fit your application.




Back to the CNC Router Buyer's Guide


Homepage








---