Builders Guide: Calculators and Charts



Calculators: In this section you will find a grown source for unique calculators that will help you design and build your CNC machine. Keep in mind that this is a new category and new items will be added regularly. If you would like to see something in this section or would like to report an error, please feel free to contact us.


Critical Angular Speed Calculator

Linear Speed Calculator

Pitch and Lead Calculator

Lead Screw Efficiency Estimator

Total Lead Accuracy (Inch)

Lead Screw Life Estimator(Metric)

Lead Screw Life Estimator (Inch)

Column Stregnth Calculator (lb)

Linear Force Calculator (lb)

Linear Resolution (inch)

Forces of Acceleration, Friction, and, External (inch)

Find the minimum recomended lead screw diameter (compression) (inch)




---
The Builder's Guide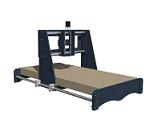 Check out the Builder's Guide. The Builder's guide walks you through the important decisions and design considerations when building your own CNC router.
---
Calculators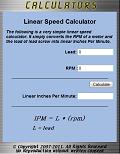 Check out the calculators and charts section.
---
CNC Controllers

Check out the CNC Controllers section. The CNC controllers sections convers all aspects of CNC control; Stepper motor control, Servo Motor Control...