CNC Router Prices
CNC router prices vary depending on the model and the features installed. There is a wide range of CNC routers available. Each machine is designed for a specific range of abilities. Let's look at the general price ranges for four classes of CNC routers.



Hobby CNC routers Price Range: $600-$4000
These types of CNC routers usually come in kits. Size ranges from 12" by 12" to a 3' by 6'. These machines are usually designed for hobbyist or home businesses. The homemade CNC router are usually constructed of wood or aluminum with very basic features. Stepper motors and ACME screws that drive the 3 axes system. The controller system may or may not be included. There are no extra features installed. The tolerances may be anywhere from .01" to.001" repeatable.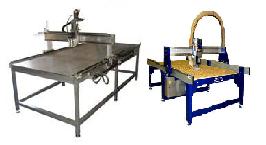 Low End Models Price Range: $4000-$25,000
This price range will bye you a router up to 4 by 8 feet. These routers are a step above the hobby size routers. They are designed for light duty work. They operate on 3 axes with the Z axis or the vertical axis being limited to about 6 inches. These machines may also come in a kit that may require some assembly. The CNC router Prices will vary greatly depending on the type of spindle. The spindle is usually a standard router or an industrial router spindle with 3 to 6 HP for the upper limits of this price range.

The low end CNC router systems may have a dust collection system but a vacuum system and other features will cost extra. The construction is usually aluminum or a steel frame construction. This machine will usually have a full set of linear rails and bearing blocks. The drive assembly is usually a ball screw assembly powered by stepper motors or a basic servo motor system. The tolerances may be anywhere from .01" to.001" repeatable.


Mid-Range Models Price Range: $25,000-$60,000
Mid-range models are similar to the low end models. However, the construction is usually much heavier. The frame is primarily steel and is reinforced. The 3 axes system is powered by a servo closed loop system with rack and pinion or ball screws. The CNC controller should be included. There should be a dust collection system and an industrial style router spindle . Feature such as an automatic tool change spindle will cost you extra.

This type of machine is usually found in sign making companies or other flat panel cutting applications. The CNC router prices will depend on the vendor in this range. At this point you may find many machines with similar specification but will pay more for certain brands. The tolerance may vary from .001" to .0005".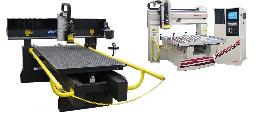 High End Models Price Range: $60,000-$100,000
This CNC router price range is for the industrial name brand models. These machines may be up to 7' by 20' or more. These machines weigh several tons and are almost completely steel. These CNC routers have the best components installed and should come as a complete system. They may also include features such as ATC spindles and a standalone vacuum system. The controller and computer should come as a module. Companies selling these machines should offer training services and assembly for an extra fee. The machine tolerances should be the best in their class ranging from .0001" to .0005". However, these machines are usually still 3 axes systems.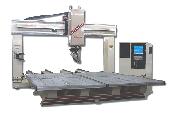 Highest End Models Price Range: $150,000 and up
These machines are the biggest and best available. CNC routers in this range may have 4 or 5 axes. Large plants and industries may own several of these machines for the primary portion of their production. In this price range all features and accessories should be available.

Other Considerations
When considering CNC router prices, do not forget to include additional costs that you may acquire. Things such as shipment, installation, training, warranties, and software could quickly add up to several thousand dollars.

Shipping and installation


CNC routers can weigh anything from a few hundred pounds to several tons. This could quickly add in cost with transportation fees. Some companies have an exclusive service that is included in the price. However, if you are buying one, be sure to make arrangements with the seller before committing to buy.

For the larger machines, be prepared to make arrangements for the machine ahead of time. The floors may need to be reinforced, doorways widened, etc. Also, do not overlook the power and electrical requirements. Many of these machines require 220/3 phase or other high end power requirements. Makes sure your wiring is sufficient.

These machines will most likely come in several pieced and will need to be setup and installed. It is worthwhile to have a professional with experience install these machines. Many of the manufacturers or vendors offer their services but be prepared to pay anywhere from $200 to $1000 a day for installation. You may be looking at several days to a week to install these machines.

For lower end models it is sufficiently safe to hire a machinist or do the assembly yourself. However, for larger machines, it is not worth the risk of voiding warranties or damaging the machine by installing it yourself.

Training and Warranties
These machines have a certain learning curve just as any other machine. Depending on the operator, it may take a few days or a few months to acquire the necessary skills to operate these machines. The machine will only be as efficient as the person operating it. Many companies offer training for these machines, the cost may cost up to $1000 a day for a trainer to visit the worksite. However, some companies offer their own training courses at their site.

Do not forget to check on warranties and the coverage. Do not put yourself in a situation where you would void the warranty.




Software
You will require some sort of design software package such as CAD software and CAM software to program the tool path. There is a variety of packages available that should work with almost any machine. These packages will usually require an annual license fee. Expect to pay anywhere from $2,000 to $15,000 for a complete package.

For the low end models, there are free programs available but they usually have limitations.


Conclusion
CNC router prices depend on the capabilities of the machine. Many time people overestimate their needs. Get the machine that is right for your job. However, if you feel your needs will change in the near future, it may be cheaper to invest in a higher end machine first. The CNC router prices may or may not be worthwhile for your business. Write down the expenses and compare them against the savings and potential improvement that a CNC router could provide.

These CNC router prices are general and are by no means all conclusive. As the industry progresses, so do the prices. Prices may drop or increase.

If you are interested in buying a used CNC router, I suggest you check out the listings at www.cncrouterstore.com.

They offer a great service connecting buyers with sellers. Check out and compare the used CNC router Prices with that of new ones, you can get price quotes via their website fairly quick. Check it out you could save a good amount of money. Just do your research on the product prior to buying.

If you are interested in New CNC routers, then a great way to obtain several price quotes at once is to use the free services at Buyerszone.com.

This link will take you to the portion of their site dealing with CNC routers. You can quickly see multiple prices for the CNC router that fits your needs best. Simply fill out the form and submit.

For a List of manufacturers and sellers of these machines in all CNC router price ranges check out our Links Page

GO TO: Homepage from CNC router Prices guide






---